Main Features of Next Generation UTM
High-performance integrated
security solution equipped with multi-core CPU

Multi-core CPU based optimized modules are used to implement performance differentiated from other products

Provides strong security such as
VPN, firewall, IPS, etc.

Provides integrated security functions such as VPN, firewall, and IPS
in one device, and prevents various network attacks and threats by detecting and blocking illegal access

High-Performance UTM Product Lineup

Implements the best performance by applying high-speed packet processing technology to provide 10G/40G-class high performance

Multi-line bonding and load balancing

By improving the VPN function of the previous version of the VForce VPN series, it provides a fast and stable network environment by improving the bandwidth through multi-line load balancing function and line combination.
VForce UTM x700 series provides operating environment continuity for
customers using the VForce UTM series, NexG's best-selling product.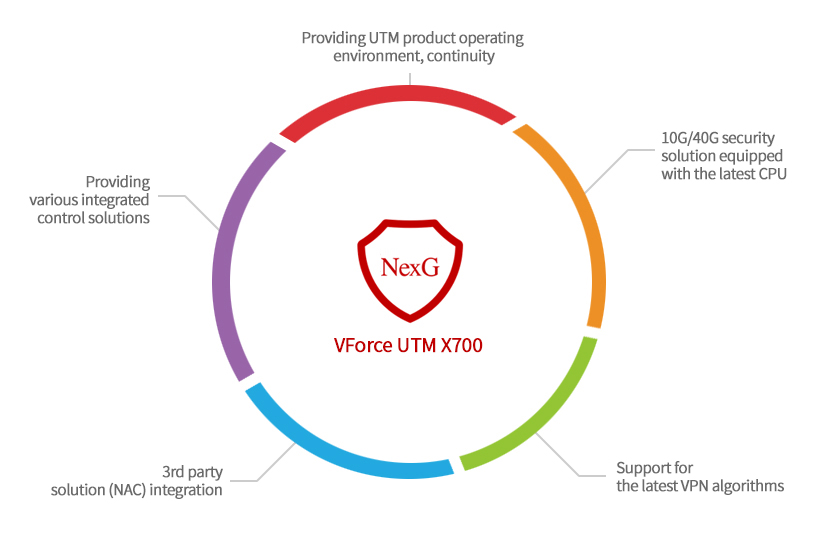 VForce UTM x700 series provides the best performance compared to
costs through multi-core-based high-performance processor and strong offload function support
VForce UTM
Performance
Architecture

Equipped with multi-core-based high-performance processor
Equipped with a high-performance processor based on intelligence multi-core and adopted a distributed architecture to enable smooth use of various security functions.
Off-road capability
After session creation, packet processing in its own offload ensures high processing performance by minimizing CPU usage and latency.

Next Generation UTM Key Features
01

Firewall

· Stateful Inspection
· 5 Tuples (IP/Port/Protocol)
· Zone-based policy support
· User-based policy support
· MAC Address-based policy support
· Object and Schedule-based policy support
· Independent of policy and number of sessions
· Policy statistics and scanning support
· Static, Dynamic NAT, Excluded, Twice NAT
02

VPN

· Multi-tunnel
· Bonding Tunnel
· Split Tunneling
· Transport / Tunnel Mode
· Crypto Algorithm
(3DES, AES128/192/256, SEED, ARIA, LEA)
· Integrity Algorithm (MD5, SHA1, SHA2)
· DPD (Dead Peer Detection)
· NAT Traversal
· L2 Bridge VPN
03

IPS

· Deep Packet Inspection
· 4500+ Keep Signature
· Snort Rule Format Support
· Profile-based policy settings
· PCRE Support
· Black-list / White-list
· Anti-Evasion
· Anti-Virus (Stream-based) Detection and Blocking
04

Anti DDoS

· TCP/UDP/ICMP/DNS/HTTP Flooding Defense
· Scan, Sweep Defense
· Signature-based defense
· Counterfeiting / modulation behavior-based defense
· Traffic Limit-based defense
05

Web Filter

· URL and URI Extension Check
· Custom DB Filter
· Web Surfing Control with 96 Web Category DB Filters
· External DB filters such as KISCOM, Malware, Phishing, etc.
06

Network

· Route / Bridge Mode
· 802.1Q VLAN Trunk
· 802.3ad LACP
· ECMP Routing
· Policy-based Routing
· RIP, OSPF
· PIM-SM/DM, IGMP
· VoIP(H.323, SIP) Support
· QoS (Guaranteed, Limit, DSCP)
· DHCP Server , Relay, HA
· 3G/LTE Support
· DDNS Support
· Secure DNS Support
· LLDP Support
07

Management

· CLI ,Web UI
· Dashboard
· SNMP Version 1 / 2 / 3 Support
· Syslog Transfer Support
· Policy Export / Import Support
· Query unused policies and objects
· Statistics and Reports Support
· System Settings / Support for Firmware backup and recovery
· Administrator external authentication support
· VForce NMS and NexG ESM Interworking
08

HA

· Active-Active / Active-Standby
· VRRP, IPAT
· LLCF
· L2 Bypass
· Synchronization (Policy, Session)
09

Application
Control

· Control behavior by application
· Game, P2P, HTS Control
· Web Mail Control
· Instants Messenger Control
· Web Hard Control
· Streaming, File-type Control
10

IPv6

· IPv6 Routing
· IPv6 Firewall
· IPv6 IPsec
· 6 to 4, ISATAP
NexG VForce UTM X700 Series
Hardware Specification
VForce UTM 2700U
VForce UTM 3700U
VForce UTM 4700U
VForce UTM 5700U
Chassis Image
Speed / Core

3.8GHz / 4

3.3GHz / 8

2.2GHz / 8 X 2

2.1GHz / 16 X 2

Memory

16GB

32GB

64GB

64GB

Storage
Flash

8GB (mSATA)

8GB (mSATA)

8GB (mSATA)

8GB (mSATA)

HDD/SSD
2TB
2TB
2TB
2TB
Network
Interface
10/100/1000BASE-TX

8(MAX 16, opt)

8(MAX 16, opt)

8 (MAX 64)
8 (MAX 64)

1000 BASE-TX

4 (MAX 16)

8 (MAX 16)

8 (MAX 64)

8 (MAX 64)

10G BASE-X (2 Port)

- (MAX 4)

2(MAX 4)

4(MAX 16)

4 (MAX 16)

10G BASE-X (4 Port)

- (MAX 4)

- (MAX 4)

- (MAX 32)

- (MAX 32)

40G BASE-X (2 Port)

-
-

- (MAX 16)

- (MAX 16)

Module Slot

2
2
8
8

MGMT / USB

0 / 2
0 / 2
2 / 2
2 / 2

Console/AUX/LCD

1 / 0 / 1
Power
Redundant
Redundant
Redundant
Redundant
100-240V/
100-240V/
100-240V/
100-240V/
50~60Hz/
50~60Hz/
47~63Hz/
47~63Hz/
5~25A/
5~25A/
10~5A/
10~5A/

300W Max

300W Max

800W Max

800W Max

Dimensions(WxHxD, mm)
430X44X426
430X44X426
430X88X562
430X88X562
Weigh(Kg)
7kg
7kg
14.5kg
15kg
Rackmountable
YES
YES
YES
YES
NexG VForce UTM X500 Series
VForce UTM 500
VForce UTM 1500
VForce UTM 2500
VForce UTM 3500
VForce UTM 4500
VForce UTM 5500
Chassls
CPU
2 Cores
4 Cores
6 Cores
10 Cores
24 Cores
32 Cores
Memory
4 GB
4 GB
4 GB
8 GB
16 GB
32 GB
Storage
HDD
-
500 GB
1TB
1TB
2TB
2TB
Flash
4 GB
Network
Interface
10/100/1000
Base-TX
4
8
-
-
-
-
10/100/1000 Combo
-
-
8
-
-
-
10/100/1000 LAN Switch
8
-
-
-
-
-
1000 BASE-X
-
-
-
MAX 8
MAX 16
MAX 16
10G Base-R
-
-
-
-
MAX 4
MAX 4
Module Slot
-
-
-
2
4
4
BYPASS
0/0
1(opt)/0
1(opt)/0
Option
Option
Option
MGMT Ports
0
0
0
0
0
1
Console
1(RJ-45)
Power
Single
Single/Redundant
Redundant
Dimensions(WxHxD mm)
300 x 44 x 180
440 x 44 x 315
440 x 44 x 405
430 x 88 x 455
430 x 88 x 510
430 x 88 x 510
Weight(Kg)
1.9
4
6
9
11
12
Rack mountable
1U Mini
1U
1U
2U
2U
2U
Temperature
0 ~ 40℃
Humidity
5~90% (non-condensing)
Expansion NIC Modules
1G Copper
4 Port 1G Copper Module(bypass)
VForce UTM 3500 ~ VForce UTM 5500
1G Fiber
4 Port 1G Fiber Module(no bypass)
1G Fiber
1 Port 10G Fiber Module(no bypass)